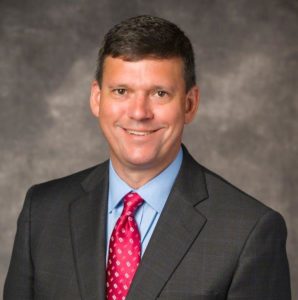 Christopher Gonzalez, MD
Chris M. Gonzalez, MD, MBA, FACS is a native of Toledo, Ohio. He graduated from Denison University in Granville, Ohio with a BS degree in 1989. Afterward he obtained his MD degree from the University Of Iowa College Of Medicine in Iowa City, Iowa. Dr. Gonzalez then completed both his general surgical and urologic residency training at the McGaw Medical Center, Northwestern University in Chicago. He completed his MBA degree from the Northwestern Kellogg School of Management in 2006. Dr. Gonzalez was named the Director of the University Hospitals Urology Institute and the Lester Persky Chairman of Urology at Case Western Reserve University in September 2015. He also serves as the Chair of Public Policy at the American Urological Association (AUA).
He is the associate editor for the Genitourinary Reconstruction Section of Urology and section editor for the "Hands On" section of Urology Times. He has served on the Board of Directors for the Genitourinary Reconstructive Surgery Society, and he was a member of the First European Conference on Failed Hypospadias Repair in 2010, the First International Consultation on Urologic Stricture Disease in 2014, and the first Urethral Stricture guidelines panel for the American Urological Association (AUA) in 2016.
Dr. Gonzalez currently serves as the American Urologic Association (AUA) Chair for Public Policy. Previous to this position he served as Vice Chairman of the AUA Quality Improvement and Patient Safety Committee. He is a former AUA Gallagher Health Care Policy Scholar, and was a member of the second AUA Leadership program class. Dr. Gonzalez has served on the AUA BPH Guidelines Committee, AUA expert panel to the AMA RUC, and the ABU/AUA Examination Committee. He was also the President of the Chicago Urological Society.
Dr. Gonzalez has published over 130 peer reviewed manuscripts, review articles, invited editorials and book chapters. His clinical research focus has been on patient reported outcome measures in the area of genitourinary reconstruction, practice patterns in reconstructive urologic surgery, lean management applications in ambulatory health care and health care economics. His areas of specialty include urethral stricture disease, lichen sclerosis diagnosis and management, repair of failed hypospadias surgery, genitourinary fistula disease, erectile dysfunction, penile prosthetic placement, Peyronie's disease and penile curvature correction.