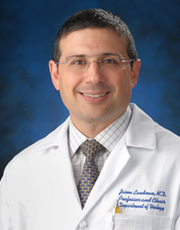 Chair, Department of Urology
Professor of Urology and Radiology
University of California, Irvine School of Medicine
Irvine, CA
The University of California, Irvine School of Medicine is pleased to announce the appointment of Dr. Jaime Landman as new chair of the Department of Urology. He brings to UC Irvine Medical Center highly valued expertise from his former position as the director of minimally invasive urology in the Department of Urology at Columbia University College of Physicians and Surgeons in New York. Dr. Landman has extensive clinical expertise in laparoscopic renal and prostate surgery and endoscopic management of urinary tract pathology. He has pioneered technology and techniques for minimally invasive management of renal malignancies and has developed novel techniques that are used globally for laparoscopic partial nephrectomy. Dr. Landman is an expert in the management of kidney cancer and is a pioneer and internationally recognized expert on the application of minimally invasive techniques for ablation of kidney cancer. He is the director of the American Urological Association courses on management of kidney cancer and on kidney and prostate ablation. Dr. Landman developed and tested novel ablation devices, which are currently used for minimally invasive ablation of renal tumors and malignancies. He has also invented novel technologies for the diagnosis of kidney cancer. His research focuses on stone disease, and he pioneered the combined antegrade and retrograde approach for treatment of complex kidney stones.