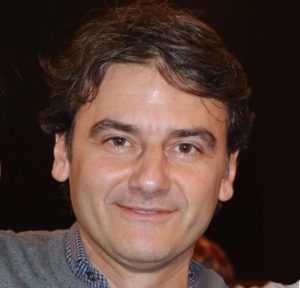 Roberto Miano, MD graduated in 1994 in Medicine and Surgery at the University of Rome "La Sapienza". In 2000 he received his degree as a Urology Specialist at the University of Rome "Tor Vergata". From 2001 to 2003 he was a consulting urologist at the Policlinico Tor Vergata in Rome. In 2001 he was appointed Coordinator of the Unit for Extracorporeal Shockwave Lithotripsy and Prostatic Thermotherapy Transurethral Microwave at the Casilino Hospital of Rome, where he carried out this activity until 2003.
In 2014 he obtained the national scientific qualification of Associate Professor of Urology.
In 2003 he won the competition for Assistant Professor in Urology at the University of Rome Tor Vergata, and since then lends care service at Fondazione Policlinico Tor Vergata in Rome. In 2008 he received the appointment of Adjunct Professor of Urology.
Dr. Roberto Miano teaches Endourology as part of the Degree Course of Pathology Integrated Systematic II in Medicine and Surgery, University of Rome "Tor Vergata"; Urology in the Degree Course in Obstetrics, University of Rome "Tor Vergata"; "Urological Endoscopy" in the Postgraduate School of Urology, University of Rome "Tor Vergata"; Master holder in Uro-Rehabilitation of the University of Rome "Tor Vergata".
His scientific achievements are documented by numerous publications in peer-reviewed journals, internationally indexed journals, more than 200 communications, poster and video to the most important national and international congresses of Urology, books and book chapters, and received awards for his research activities.
His main scientific interests are prostate cancer (basic research and diagnosis), benign prostatic hyperplasia (basic research), and stone disease. Clinical activity includes approximately 1000 minimally invasive surgeries for urinary stones, operative endourology and surgical oncology, in addition to urological diagnostics.
Also a member of the most renowned national and international scientific urological societies.
He recently founded an international research group called iTrust (International Translational Research in Uro-Science Team) with the intent to develop clinical and translational research in the various sectors of Urology. The iTrust activity is also complemented with the organization of international congresses and scientific content from top events.