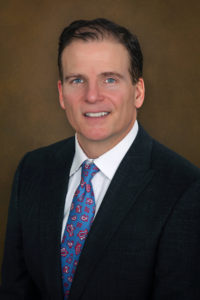 Professor of Surgery/Urology
Fellowship Director: Genitourinary Reconstructive Surgery
Co-Director of UCH Women's Pelvic Health and Surgery Clinic
University of Colorado Denver

Brian J. Flynn, M.D. is a Professor of Surgery/Urology and is the Co-Director of FPMRS at the University of Colorado Hospital. Dr. Flynn received his B.S. in Biomedical Engineering from the University of Rochester, Doctorate of Medicine from Temple University. He completed a residency in Urology at Geisinger Medical Center and his fellowship in FPMRS and Reconstructive Urology at Duke University under the direction of Dr. George D. Webster. He is one of the few remaining sub-specialists in Urology with an active practice in male reconstructive urology, FPMRS and reconstructive surgery.
His primary areas of interest are Male and Female Pelvic Reconstructive Surgery. He is a national leader in the use of new minimally invasive surgical techniques for the treatment of urinary incontinence and robotic-assisted reconstructive procedures. He has helped develop new techniques for AUS, bladder neck reconstruction and suprapubic catheter placement. He has authored and reviewed numerous clinical papers, surgical videos, textbook chapters and presented internationally on surgical management of urethral stricture with an emphasis on non-transecting techniques, post-prostatectomy incontinence, genitourinary fistula and ureteral stricture disease. He has emphasized the continued role for traditional procedures for SUI. He has also written on the surgical management of complex female urogenital reconstruction including vesicovaginal fistula repair.
He has received the U. of Colorado Urology Faculty teaching award twice. He founded the fellowship in Genitourinary Reconstruction at the University of Colorado Denver in 2008 and has been the director since that time of the GU Reconstructive Surgeons (GURS) approved fellowship. He is an active member of the American Urologic Association (AUA) content review committee; program contributor Society of Urodynamics, Female Pelvic Medicine and Urogenital Reconstruction. He is the President of the Rocky Mountain Urologic Society and the South Central Section of the AUA. He is a former board member of the Society of Genital Urinary Reconstructive Surgeons.