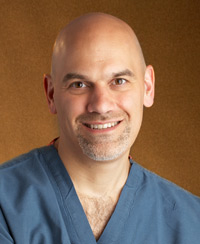 Professor and Chairman, Department of Surgery
Fox Chase Cancer Center
Philadelphia, PA
Nationally known as a leader in the field of urologic oncology, Dr. Uzzo has made important clinical, scientific and educational contributions to the Department of Surgery.
His interests focus on treatment for kidney, prostate, testicular and bladder cancer, and procedures for urinary diversion. He is skilled in minimally invasive procedures, including pure laparoscopic and robotic surgery for kidney, prostate and bladder cancers.
A fellow of the American College of Surgeons, Uzzo has consistently ranked among Castle Connolly's and Philadelphia Magazine's "Top Docs" in urology. He is a national principal investigator for a clinical trial by the Eastern Cooperative Oncology Group to evaluate new, targeted therapies for kidney cancers. He is the author of more than 350 chapters, articles, books and abstracts on urologic tumors and has presented hundreds of regional, national and international lectures.
In addition to his extensive clinical practice, he oversees research laboratory initiatives studying molecular mechanisms of genitourinary cancers. In 2003, he was promoted from associate member to member with tenure in Fox Chase's division of medical science.
Before he joined the Fox Chase staff in 2000, Uzzo had been a fellow and clinical staff member of the urology department at the Cleveland Clinic Foundation since 1997. He was an American Foundation for Urologic Diseases scholar there until 1999 and held an additional fellowship in renal transplantation and renovascular surgery at the Cleveland Clinic from 1999 to 2000. Prior to beginning his fellowship in 1997, he served as ship's physician for a six-week explorer expedition to Antarctica.
Uzzo earned his bachelor's degree summa cum laude in biology and anthropology at Union College in Schenectady, NY, where he was the valedictorian and a New York State finalist for the prestigious Rhodes Scholarship. He then received his MD in 1991 at Cornell University Medical College in New York City. As a senior medical student at Cornell in 1990, he studied pediatric kidney problems at Guy's Hospital in London, England, and went on to spend two months in Russia studying at the Urologic Institute of Moscow. He was also a primary care physician for the National Public Health Service at Kayenta Navajo Indian Reservation in Arizona.
Uzzo completed his internship and residency in surgery at the New York Hospital – Cornell University Medical Center. He continued his residency in urology there and at Memorial Sloan-Kettering Cancer Center from 1993 to 1997, serving as chief resident in New York Hospital's department of urology.