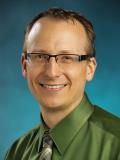 Dr. Tobias Köhler, Associate Professor of Surgery, specializes in andrology which includes treatment of male infertility, erectile and sexual dysfunction, and BPH (enlarged prostate). He received both his undergraduate and medical degrees from the University of Minnesota in Minneapolis. He completed a Masters of Public Health in Epidemiology. He then completed his urology residency training at the University of Minnesota. This was followed by an andrology fellowship at Northwestern School of Medicine in Chicago.
Dr. Köhler's sexual dysfunction clinic specifically addresses treatment of erectile dysfunction, premature ejaculation, and low testosterone levels. Dr. Köhler is an expert in state of the art, minimally invasive techniques to treat problems with erections and BPH. This includes the penile implant (internal penile pump or prosthesis) for erectile dysfunction and use of the greenlight laser to treat symptoms of an enlarged prostate (trouble urinating). He also utilizes innovative post-treatment penile rehabilitation programs, and collaborative clinical and research efforts with cardiologists (such as the use of pudendal artery stents for ED), as heart disease and sexual dysfunction are often linked.
Dr. Köhler is a key component of the newly established SIU Fertility and IVF Center which offers one of a kind, cutting edge research and treatment for couples with fertility problems. In collaboration with SIU reproductive endocrinologists, couples have the unique opportunity to be seen together. Because of this, our IVF success rate is 76% – this greater than doubles the national average of 36%. Dr. Köhler is an expert in microscopic surgery for male infertility including both vasectomy reversal and varicocele repair. Dr. Kohler also performs vasectomies and sperm extraction procedures (PESA, TESE).
Dr. Köhler heads the onco-fertility program (one of only a few of its kind in the country) at the Simmons Cancer Institute at SIU. The program's mission is to address fertility preservation and sexual health issues before patients undergo treatments for cancer.
Dr. Köhler is a member of several medical societies related to male infertility and sexual dysfunction. He has published more than 25 scientific articles and book chapters and presented both locally and nationally on various subjects including preservation of male fertility, erectile dysfunction, low testosterone, BPH, and penile prostheses. He is a physician trainer for penile prosthesis insertion both in the United States and Germany.